Back to Top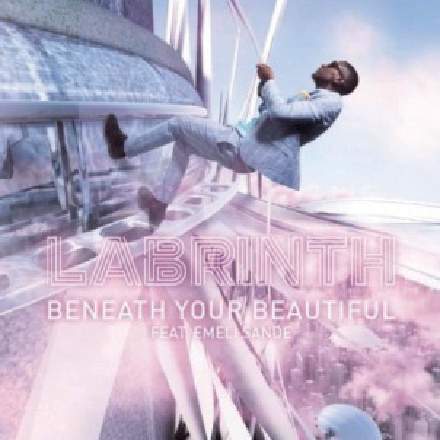 For all the buzz surrounding Emeli Sandé's vocal talents, I think Labrinth blows her off the record here! The understated fragility and fatalism of the first verse blooms magically into a ray of hope at 0:55 ("but I'm gonna try"), and the chorus vocal's ragged grain fascinates the ear. There are moments where Sandé holds her own (the low-register segment at 1:54-2:02, for instance), but most of the time she too readily retreats to her comfort zone of well-worn R&B stylings, which rings a bit hollow when Labrinth is taking real risks in pursuit of emotional immediacy. Still, I couldn't help but grimace at the audible edit points between Labrinth's notes in some of the more exposed lines. The first verse alone has half a dozen such wrinkles, which subtly undermine the important illusion that you're hearing a direct-from-the-heart golden take.
You can also hear, on both the album and Now 83 compilation versions, some odd patches of distortion in the stereo Sides signal (particularly from 0:58 to 1:12), which is typical of M/S-based data compression. Could it be that the mastered version was based on a data-compressed file? If so, it's a shame, because many of us buy CDs to hear the mix engineer's work without such audio degradation — especially when it's Tom Elmhirst!
Returning to more positive features, it's a pleasure to hear a chart production which leaves plenty of room for us to appreciate its string arrangement. The main bass part has been corralled almost entirely into the sub-200Hz region, which allows the cello section to shine, rather than support the upper strings from the other side of a high-pass filter. The vocals, beats, and bass are all kept very narrow, too, so the strings have the entire panorama as their playground. And is that a (whisper it!) viola-section melody at 1:21? The ethereal vocal doubling supplies a fantastic tonal shading, as does the sprinkling of higher-register electric-guitar rhythm. If Rimsky Korsakov's looking down on us from the clouds, I think Labrinth's giving him reason to smile!
Listening again after a break, I'm still loving this vocal performance. There are some fantastic bits of break-up/instability in his voice, for instance: "me" at 3:28 and 3:34; "would you let me" at 3:43, with its brief suggestion of a harmonic at the end as the laryngeal turbulence gets out of control; and "would you let" at 4:06. One weak point, for me, though is at 3:14 where he briefly tries to match Sandé's chest-voice with his own falsetto, creating a pretty much insoluble mix problem – you just can't get those both on anything like an equal footing.
On an arrangement level, there's a beautifully understated 'hollow' climax for onset of first chorus at 0:58, which feels to me as if it defers the fuller texture we were expecting until 1:21, which paces the build-up more effectively. The string oscillations are a nice touch at 1:40, and I also like the lovely sprinkle of sequenced synth from 2:41 – it could so easily have felt incongruous, but the timbre's been well chosen to have something in common with the strings texture, so it fits for me.