Back to Top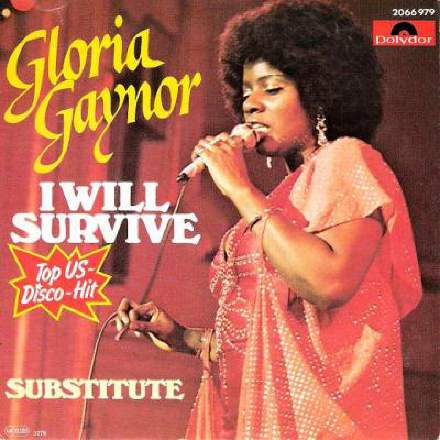 What connects this song with 'Fly Me To The Moon' or 'Autumn Leaves'? The answer is that all those tunes (and a fair few other hits besides) feature harmonic progressions containing a complete minor-key cycle of fifths. What interests me more than their similarities, though, are their differences, as each songwriter wrestles with this harmonic archetype in their own way. Where this Gloria Gaynor hit trumps the others, for example, is in the sheer persistence of the pattern, which underpins the entire song, repeating 11 times in the single version and 28 times in the more extended album version. Furthermore, there are no chromatic shenanigans spicing it up (as in Lionel Richie's 'Hello') and no attempt to soften the supertonic diminished chord by shifting it into first or second inversion (a frequent recourse of classical composers); it's just heads-down, here-we-go-round-the-cycle from top to tail.
While I think there's something undeniably hypnotic about this constantly recirculating harmony, it does present something of a practical problem for the poor bass player Scott Edwards, who's faced with the unenviable task of trying to make 200 successive up-a-fourth/down-a-fifth root motions sound interesting! He certainly steps up to the plate, though, and his heroic efforts are probably the highlight of this whole production for me. In this respect, it's a bit of a shame that most people know this song only from the single version, because it's actually from the beginning of the fourth minute that Edwards really hits a purple patch. Obviously, he's been providing tremendous rhythmic impetus up to that point, as well as switching up his end-of-bar eighth-note fills between chromatic and diatonic passing notes, but his melodic instincts really come to the fore after the single version's fade-out. In this respect the new 16th-note fills under the second appearance of "and so you're back" feel like a statement of intent, introducing the idea of a five-note diatonic falling scale that later appears in augmentation as eighth-notes under "all the strength I had" (5:11) and then grows into the more extended scalar workings under "walk out the door" (5:46) and "not welcome any more" (5:50). But the crowning glory for me is the sequential series of three scalar figures that underscore the second sax solo at 6:16-6:27, and which reappear under both the final harmonic cycles (starting at 7:22 and 7:38).
Whatever version of this song you listen to, though, take a moment to focus on how mellow those strings sound. For me, this serves a number of purposes in this mix. On the one hand, because we're so used to the idea of violins being bright-sounding instruments acoustically, I think the fact that they're outshone in the HF zone by the vocals and percussion here helps create an illusion that those more important arrangement elements are actually brighter-sounding than they really are. But it also means that the lead string lines are relying on their mid-range frequencies for audibility, avoiding a harsh spectral build-up at the high end of the mix, plus they maintain good separation from the lead vocal when both appear together after the song's iconic hiatus at 2:35.