Back to Top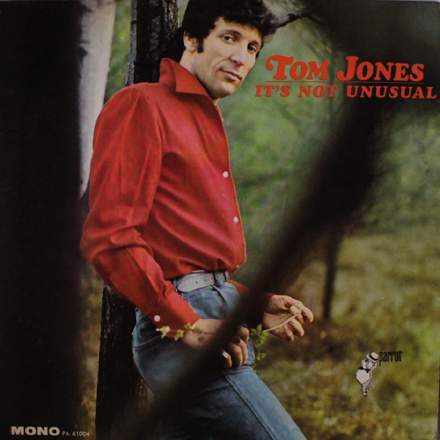 Depending on who you believe, this song's session date may have brought together drummer Andy White (who played on the Beatles' debut single 'Love Me Do') and pianist Reginald Dwight (better known these days as Elton John), which is quite some line-up! However, what drew me back to Tom Jones's breakout single recently was the sad passing of the song's writer and arranger Les Reed (also responsible for his 1968 hit 'Delilah').
Despite the song's title, it is actually rather unusual structurally. For instance, it feels strange nowadays that there's no 'chorus' as such — the verse manages to achieve both narrative momentum and title-hook saturation all on its own. The danger, though, is that if Reed had simply repeated that verse without some intervening variation it'd quickly have become tedious. Fortunately, he chose to end each verse in a unique manner. The first finishes with a two-bar phrase extension (at "I wanna die"); the second loses two bars instead, launching unexpectedly into a long middle section ("it happens every day…"); and the third again loses two bars before closing the song with a short coda ("to find out I'm in love with you, whoa…"). In the process, it's remarkable how often the song deviates from a traditional 4/8/16-bar section paradigm: verse one is 18 bars; verse two is 14 bars; the middle section is 18 bars; and the third verse is 14 bars. Indeed, it's only the introduction and the instrumental solo section that retain their four-square durations at eight bars apiece.
Backing vocalists John Carter and Ken Lewis (a successful songwriting duo who later wrote the hit 'Can't You Hear My Heartbeat' for Herman's Hermits) also caught my ear, but unfortunately because of their rather lame off-beat clapping. To be fair, they're suffering from an unwise arrangement choice, in that there are only two of them at it and, at the most basic level, the impression that so few people are clapping along doesn't exactly inspire confidence in the infectiousness of the groove! But it's also never a great idea in general to layer two of the same instrument together, because it's so unforgiving of performance discrepancies between the musicians — especially when sharp transients are involved, as in this case. And then there's the fact that the two claps rather overshadow the horn riff in the mix balance, thereby undermining the illusion of power from the brass instruments.
Another thing that always tickles me with backing vocalists is when they audibly disagree with the lead about the phrasing, as they do here at "Love will never do / what you want to". It seems like it would have been such a straightforward thing to sort out in advance, and I always imagine the instrumentalists on the session rolling their eyes meaningfully at each other as a result. (That said, my favourite example remains Solomon Burke's version of 'None Of Us Are Free', where he and the Blind Boys of Alabama never quite decide between themselves whether the chorus goes 'is chained' or 'are chained'.)