Back to Top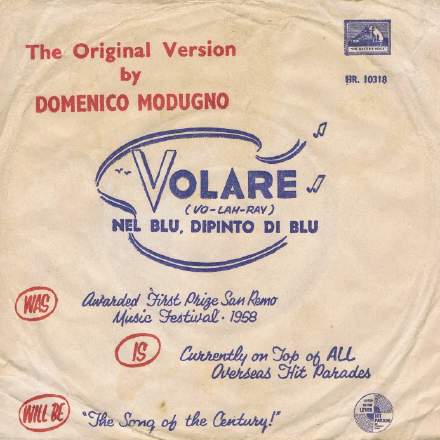 Few people remember that this song was actually an early Eurovision entrant, and although it only placed third in the contest, Modugno clearly had the last laugh in terms of record sales, as well as walking off with the Record Of The Year and Song Of The Year gongs at 1959's inaugural Grammy Awards. It's worth shopping around to find an original mono version of this single, as all the stereo versions I found appeared to have been 'stereo-ised' by veiling the details with a layer of more or less ham-fisted stereo reverb, which is a shame given that the arrangement here is something rather special.
The backing band accompanying Modugno's lead vocal is already a little unusual, comprising bass, drums, guitar, piano, Hammond organ and harp, something that initially impressed me was how these forces were used to cover a surprisingly large timbral range. At the very opening of the song, for instance, cymbal rolls and a harmonic-rich Hammond sound provide a truly creditable illusion of strings, while the layered harp chord and Hammond stab that follows the first "Nel blu dipinto di blu" at 0:59 creates a tremendous impersonation of vibes. Indeed, the Hammond player is totally the star of the show for me, exhibiting enormous sensitivity and expression with the volume pedal throughout, and delivering that lovely shimmering flute-like countermelody at "una musica dolce suonava".
But the quality of this arrangement extends beyond pure timbral invention. Notice how the harp, piano, and Hammond take turns to court the listener's interest whenever the vocal falls silent during those rubato sections that precede the first and third "Volare! O-oh!" entries. And there are also some lovely section contrasts, for example between the Hammond-driven richness of "Volare! O-oh" and the tight bass and guitar texture of the "Nel blu dipinto del blu" section — the latter again strongly reminiscent of a string orchestra, although this time in pizzicato mode.
There's one curious thing I noticed about the mix, though: the drums take a significant step backwards in the balance for the second half of the song. It starts off as a bit of a hi-hat concerto, to be honest, but I'm guessing the prominent cymbal hit at the second "Volare!" (1:25) must have woken up the balance engineer, because the kit then slowly subsides to a more musically appropriate level over the following five seconds…